Attachment: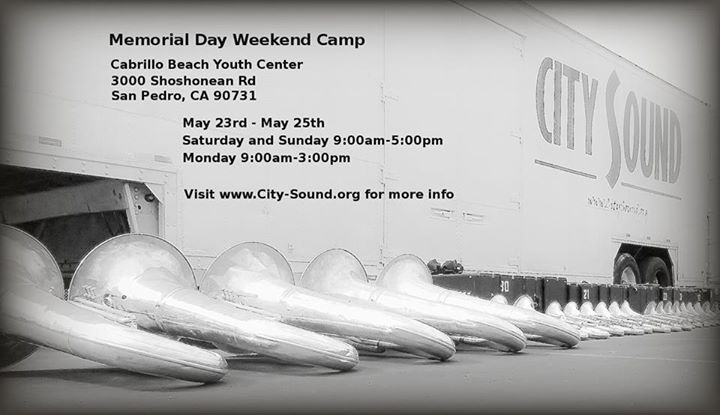 11219746_10152932855673111_6801879349506755784_n.jpg [ 43.1 KiB | Viewed 1054 times ]
Memorial Day Weekend Camp
Here we go! It is time to start putting the show on the field. This weekend is our 3 day Memorial Day Camp, there will be new music and drill. This is not a sleep over camp, but each day will have a full schedule. Check in is 9am each day by the truck at Cabrillo Beach Youth Center and rehearsals will be just down the street at 22nd Street Park. Below are all the details. We are still accepting applications for membership in the corps. Please visit the membership page on our website,
http://www.city-sound.org
or email
info@city-sound.org
to request more information.
Locations:
Cabrillo Beach Youth Center
3000 Shoshonean Rd
San Pedro, CA 90731.
22nd Street Park
226 E 22nd Street
San Pedro, CA 90731
Schedule:
5/23/2015 9:00am – 5:00pm*
5/24/2015 9:00am – 5:00pm*
5/25/2015 9:00am – 3:00pm*
End time is dismissal time from the park
WHAT TO BRING:
- Mouthpiece and Horn (if you have your own)
- 1 Gallon Water Jug, filled
- Hat or baseball cap
- Athletic clothing and shoes
- Pencil and 3-ring binder with inserts to hold music

_________________
Nathaniel Lewis
Director
City Sound Drum & Bugle Corps



Sometimes the grass really is greener on the other side

.